So now the other Kate is getting married today. Like many, I am super excited about seeing the dress. John Galliano is said to be designing the dress. I am sure it will look amazing.... so I hope!
.
In celebration of the great Kate and out of inspiration of this post, here are some of Kate's best dressed looks and some other noteworthy moments. Going through photos it's amazing how many trends she started. I haven't include any of her modelling otherwise this would be an endless post. Love or hate her, she is a fashion icon.
.
Pic on the right- I know she is smoking here but how amazing does that 3-piece look. The vest, the skirt, the way the jacket is worn. Brilliant.
Pic on the left- Shot in the early 90's and her outfit still looks timeless.
Pic on the left- That infamous dress. I wonder how many dresses were inspired as a result of this dress?
Pic on the left- It was 2004 and Kate showed us how to wear jeans tucked into jeans.
Pic on the left- This would have started tan leather jacket trend and the tan belt look. Get rid of the belt and this would still look great now.
Pic on the left- That day her collaboration with Top Shop was announced.
Ooh la la.... the Johnny Depp days.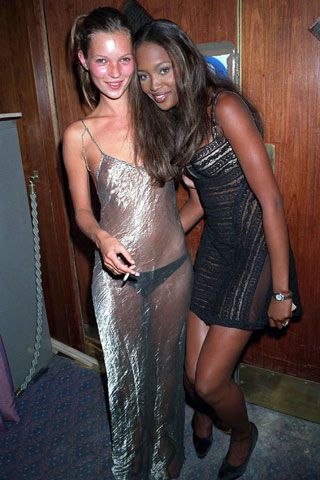 Okay, she isn't best dressed material here but here she is an itsy bitsy baby in what appears to be her night gown, oh yes. Naomi and Kate are sharing bedtime stories.
Images from Lifestyled, UK Telegraph, UK Vogue Online and Google Images