Recently Mr P and I had some of his cousins and his sister Miss C over for dinner. My dilemma was that some of the guests were fasting for easter. As part of the variant of the Orthodox religion we practice, during lent it's practice you eat only vegan foods. The period of lent we observe goes for 55 days (15 days longer than Catholicism - correct me if I'm wrong). I often find it hard to do it for that long so I end up only doing the fast for half of the period.
At the end of the day, it's a personal thing. I think the most important thing would be to make some sort of sacrifice in your life.
During Lent this year Mr P and I aren't fasting. In our religion newly weds in their first year of marriage are excluded from needing to fast (yes, really!).

Given there were vegan and non-vegan guests, there had to be combination of foods. Over the next week I will be posting recipes to the dishes I made.

Today, the dish I will be sharing is a vegetarian dish from a book that I adore. The CSIRO Total Wellbeing Diet Recipe Book (book 1). I have both book 1 and 2. I adore both. The recipes are easy and extreamly tasty. They are practical and healthy dishes. I use these books on a regular basis.
Recipe from
CSIRO Total Wellbeing Diet Recipe Book (book 1) (Has been slightly altered.)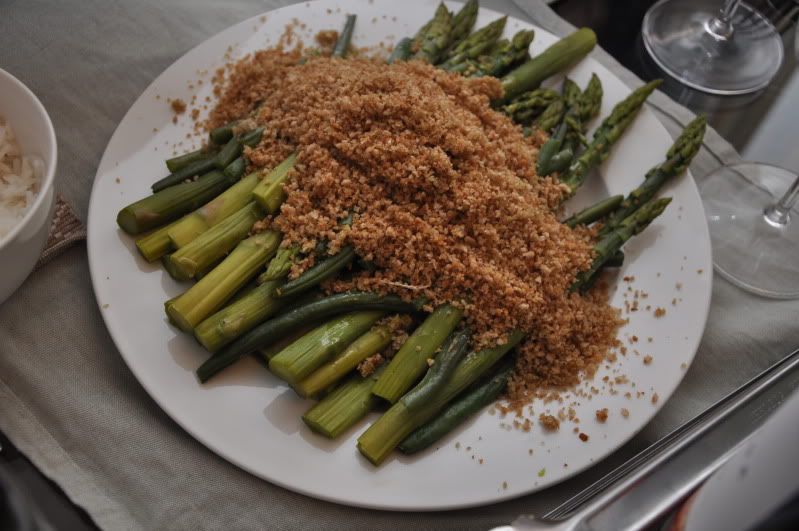 Ingredients
2 slices wholegrain bread (or you could use rye, I used rye)
150g green beans, trimmed
12 spears asparagus, trimmed
Method
1. Place the bread in a toaster. Once toasted, place the bread in a food processor to form fine breadcrumbs.
2. Steam or microwave the green beans and asparagus for 4-5 minutes until tender and just cooked.
3. Heat the olive oil in a small frying pan over medium heat, add the breadcrumbs and garlic and cook, stirring, for 5 minutes or until the crumbs are golden and crunchy.
4. Serve the beans and asparagus topped with the garlic breadcrumbs.